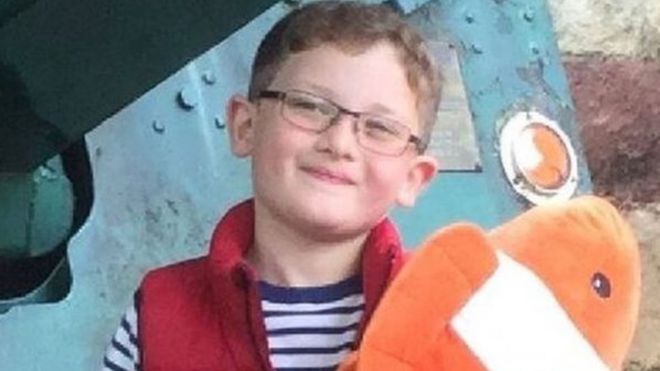 Reading Time: 3 minutes
Matthew Spriggs told the inquest into the death of Archie Spriggs he tried to protect his son from his ex-partner.
An inquest, which began on Monday and is expected to last for two weeks, was told that Speed, who was looking after Archie at her home in Rushbury, near Church Stretton, Shropshire, is serving a life sentence after being found guilty of murder in March 2018.

In his evidence to the inquest, Mr Spriggs claimed his concerns were not taken seriously – and that he had telephoned social services in the months before Archie's death saying he feared they would not take any action unless he was murdered.

Daily Mail
Mr Spriggs said he reported bruising to Shropshire Council in 2013, after his son said he had been "held upside down and shaken", and again in 2014.
"I informed social services that I had photographic evidence of his injuries, but they did not seek to take this from me," he said. In a statement read to the court by his lawyer, Mr Spriggs said he could still not comprehend his former partner's actions.
He contacted Shropshire social services for the third time in 2017 after Archie disclosed "several types of abuse and neglect", the court heard.
Within a short time of that letter, Archie was dead.
The inquest was told she strangled Archie at their home in Rushbury, Church Stretton, on 21 September, 2017.

In a statement read to Shropshire Coroner's Court by his lawyer, Mr Spriggs, of Shrewsbury, said he also asked Archie's school, West Mercia Police and Ofsted to investigate during June and July 2017.

BBC News
Matthew said that in the months before his son died, he had telephoned social services and asked: "What is it going to take for you to investigate? Bruises? Broken bones? Or my son to be killed by her?" The alleged reply was: "It won't come to that."
"I contacted many organisations and I do not believe that any of the organisations took my concerns seriously," he said.
A judge has spoken of the "chilling" letter left by Lesley Speed as she attempted to pin the blame for her son's death on his father.

Shropshire Star
Lesley Speed, 44, was jailed in 2018 for life, with a minimum term of 18 years, at Birmingham Crown Court.
This is the kind of danger to children that comes from a generation of social workers who largely believe in the concept of "toxic masculinity". Masculine men protect, yet they are not allowed even to protect their own children. Meanwhile, the same people still don't understand that women can be as violent as men, nor do they appreciate that women cause more child abuses than men.